KonTiKi animals
Sheep and goats (called "Schazies" [dearies] at KonTiKi)
The Schazie Paddock contains African pygmy goats, a Cashmere goat and Coburg fox-headed sheep.
The pygmy goats are robust and easy to look after, playful, inquisitive, sociable, and enjoy climbing and jumping. They are also suitable for teaching work with younger children because they are quite small. Jasmine, the white Cashmere goat, is particularly soft and has a character of her own.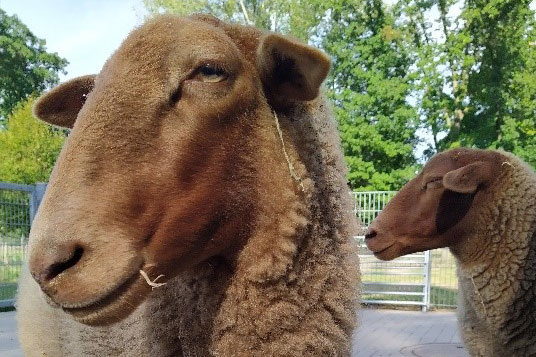 Coburg fox-headed sheep are an old breed of sheep, which used to be common mainly in barren low mountain landscapes. They are soft, woolly and warm. The sheep like closeness and touch and radiate a soothing calm. They are very trusting and can therefore be used in animal-assisted work. They also provide good wool for processing.
Alpacas
Like lamas, alpacas belong to the camelid family. They provide warmth and valuable wool, and were already appreciated as livestock by the Incas. Alpacas are strong and tough mountain animals that are very sociable and feel most comfortable in groups. They are sweet-tempered and friendly animals whose appearance – and intelligent, quiet, well-tempered and very sensitive natures – fascinates the children. Alpacas learn quickly but express clear limits (by spitting).
Black Forest chestnuts
Black Forest chestnuts are an old breed of horses that were specially bred for heavy forest work in the Black Forest. They are good natured and undemanding, as well as tough and long-lived. At KonTiKi they are used for equestrian vaulting, riding, drawing coaches, hippotherapy and for walking.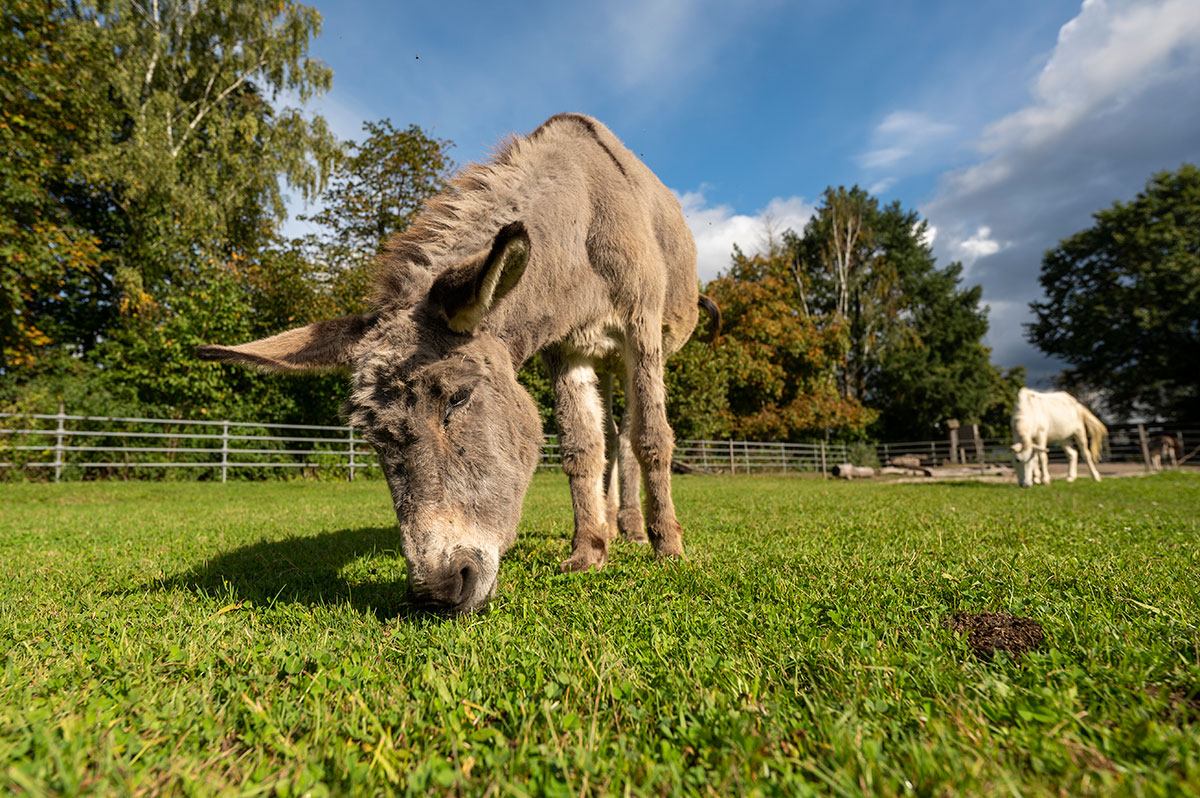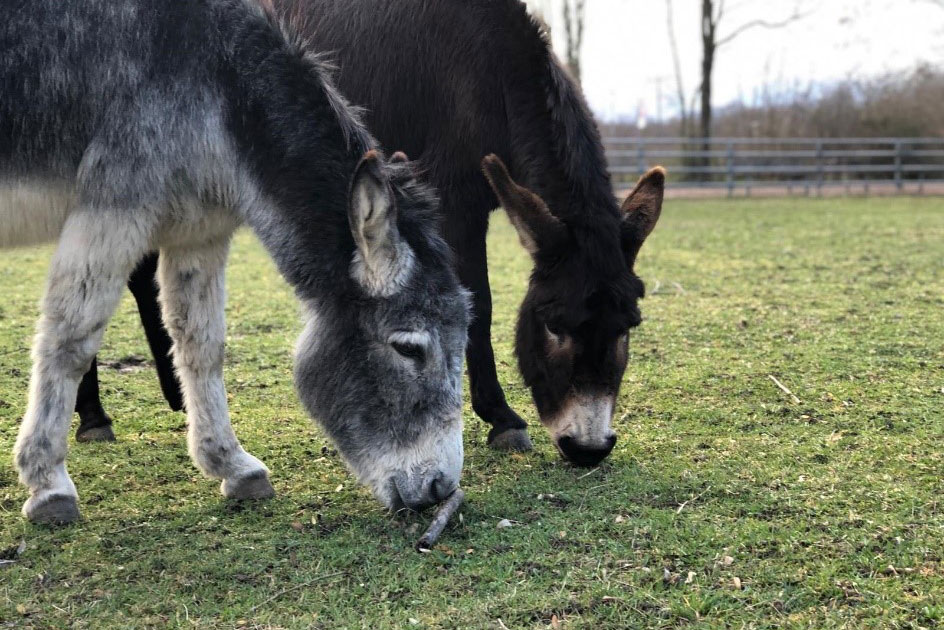 Domestic donkeys and mules
Domestic donkeys are kept as pets and livestock all over the world. They are undemanding, docile, hard-working, clever, inquisitive, temperamental and full of character. They are unjustly accused of being stupid, lazy and obstinate. Donkeys are very clever and can observe and copy activities. They have very strong personalities, are powerful and have stamina. They are among the children's most popular animals at KonTiKi.
KonTiKi also has two mules among their animals. Mules are created by crossing a horse or pony with a donkey. Like the donkey, they are undemanding and have stamina.
Poitou donkeys
The Poitou donkey is an endangered breed of large donkeys named after the Poitou region in western France. They have been used for breeding mules in France, Germany, the USA and many other, mainly European, countries for hundreds of years. Their long, soft and curly hair and their long ears are very attractive. They are well-tempered and full of character.
Chickens
You can find our chickens all over the KonTiKi grounds and beyond. Our chicken group is a colorful mixture of Vorwerk chickens, Lakenfeld chickens and Swedish flower chickens. Some of the chickens are very trusting and enjoy direct human contact, others are rather shy and prefer to be on their own.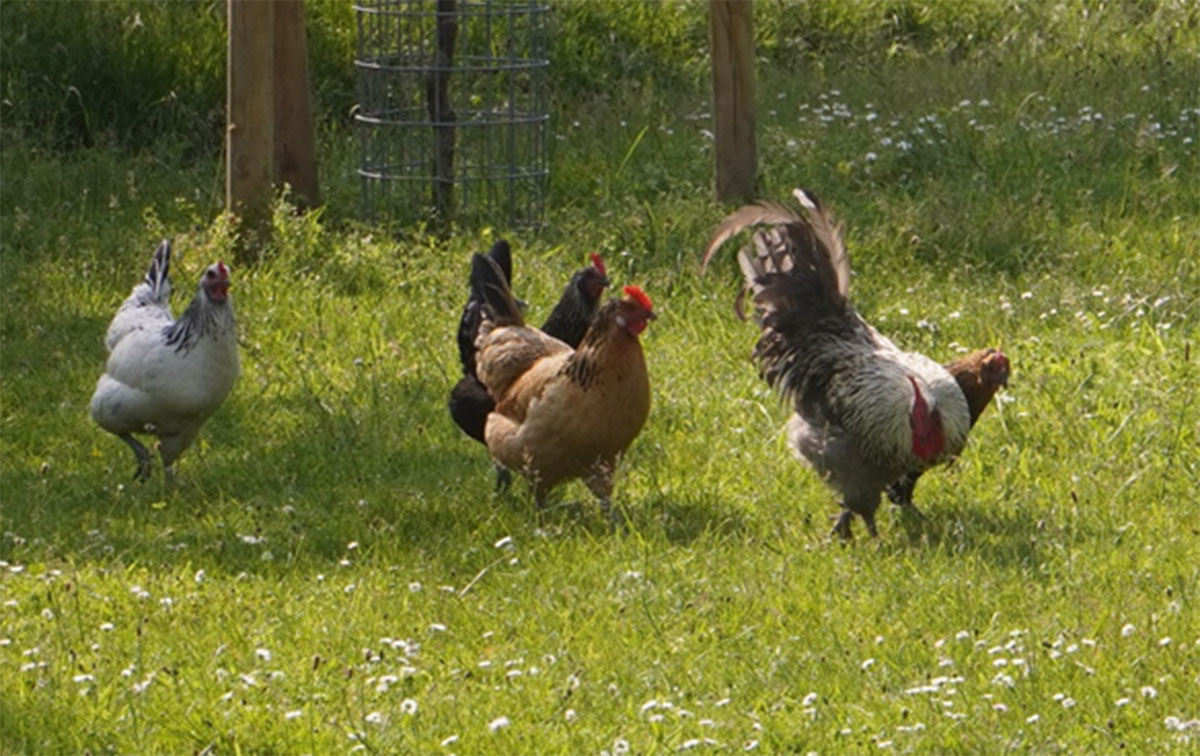 Cat
...furthermore, KonTiKi is home to one of the most important employees of the Mundenhof: Kobold the cat. Most of the time he can be found in the kitchen taking a nap, on the PC keyboard, in the KonTiKi yard or in the yard economy.